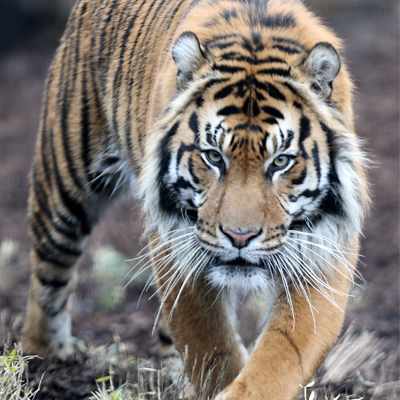 Arunachal Pradesh may get its third tiger reserve after the Dehradun-based Wildlife Institute of India conducts a detailed survey at Dibang Wildlife Sanctuary bordering China to confirm presence of tigers.
The institute in a preliminary survey during February-March had already confirmed the presence of tigers and prey population in the sanctuary.
On the basis of the report, the National Tiger Conservation Authority (NTCA) recently asked the state Forest Department to submit a proposal to declare the area as a tiger reserve.
Deputy Chief Conservator of Forest (wildlife) P Ringu said the WII survey would likely start from next November if the required fund was released by the NTCA.
The survey would take approximately six months to be completed as the sanctuary is very vast covering an area of over 4000 sq kms, Ringu added.
The presence of tigers at Dibang Wildlife Sanctuary was established after state forest officials rescued three tiger cubs from Angrim Valley within the sanctuary in December 2012.
"The department's officials rescued three cubs from the area after receiving a report of sighting of four cubs.
While one died due to malnutrition and disease, the two rescued cubs are presently rehabilitated at Itanagar zoo," Ringu said.
If Dibang does become a tiger reserve, it will be the third one in the state after Namdapha and Pakke.
Besides Namdapha, the other reserves in the Northeast are Kaziranga, Manas and Nameri.
The WII in its report, "A Rapid Field Survey of Tigers and Prey in Dibang valley district" has confirmed the presence of tigers in the district and have camera trapped the first-ever image of an adult tiger from the sanctuary.
The survey results clearly indicate that the sanctuary holds the highest elevation range for tigers in the country.
"We also observed 10 pug marks and collected 11 scats in and around the wildlife sanctuary," Ringu said.
Arunachal has two tiger reserves – Pakke, covering an 862 sq km area in East Kameng district (declared on April 23, 2002) and Namdapha, covering a 1,850 sq km area in Changlang district (declared tiger reserve and national park in 1983).
Tiger estimations in Arunachal Pradesh have generally been done only in Namdapha and Pakke.
Scientists say there is a need to document other source populations as these populations represent historical entry points to the Indian sub-continent and would have high conservation and genetic value.
Though the latest annual census report published in the bi-monthly Outreach Journal of the NTCA say the total count of tigers is 17 in the state, which includes 13 in Pakke tiger reserve and 4 in Namdapha Tiger Reserve, the Forest Department has exuded confidence that the figure will be between 40 and 50.
The Namdapha Tiger Reserve is the only national park in India where all the four varieties of big cats - tiger (Panthera Tigris), leopard (Panthera Pardus), snow leopard (Panthera Uncia) and clouded leopard (Neofelis Nebulosa) - have been found.